TCT Orientation Self-Study Guide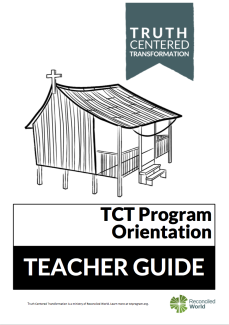 TCT Orientation Videos
Session 1 – Introduction
 –
In this session we give an overview of the TCT program, review the history and results, and look at the goals and key ideas that undergird the program.
Session 2 – Program Overview – This session gives an overview of the trainings, explains an Act of Love, and explains how to do the program.
Session 3 – Core Principles – An introduction to our Seven Core Principles and an explanation of Mobilizing Local Resources and Focusing on the Vulnerable.
Session 4 – Depending on God – In this session we are reminded that it is God who transforms, not a program. We look at how to rely on God as our source of everything.
Session 5 – Nurturing Truth & Confronting Lies – Beliefs do impact our behaviors, therefore we must teach truth if we want to see lives changed. In this session we see some of the truths that the TCT program was built on.
Session 6 – Integrating Physical and Spiritual
 –
In this session we look at the biblical call to respond to both physical and spiritual needs and how this program equips churches to do so.
Session 7a – Pursuing God's Way – We choose to follow God's ways above all else. In this session we examine some critical areas in which we have chosen to follow God's ways in this program.
Session 7b – Partnering with Churches – In this session, we examine why the church is key to addressing brokenness and what partnership looks like.
Session 8 – Key Practices – This session gives an overview of the key practices that will help you run the TCT program.
Session 9 – Program Details – This is a review of some of the ideas covered throughout the orientation and provides helpful information for getting started with the TCT program and adapting the materials.

Click here to download a set of student notes to use as you watch the TCT orientation sessions.